22-01-2016 | Issue 9-10/2016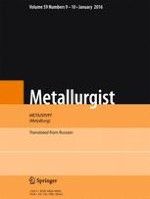 Prevention of Corrosion-Resistant Austenitic Steel Cladding Layer Surface Defects
Journal:
Authors:

A. V. Amezhnov, I. G. Rodionova, A. I. Zaitsev, N. G. Shaposhnikov, A. A. Pavlov, O. N. Baklanova
Important notes
Translated from Metallurg, No. 10, pp. 50–56, October, 2015.
Reasons are studied for surface defect formation (rolling crystallization cracks) for a bimetallic rolled product cladding layer of austenitic class corrosion-resistant steel prepared by electroslag welding. An unfavorable effect of liquation during welded layer steel crystallization is established for surface quality. Possibilities and examples are established for preventing the occurrence of surface defects by optimizing welded steel chemical composition, and also bimetallic rolled product start-to-finish manufacturing technology parameters.