2016 | OriginalPaper | Chapter
2. Principles, Legislative and Institutional Framework in Which Financial Institutes Operate in Germany's Social Market Economy*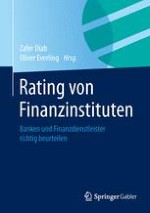 Read first chapter
Author: Stefan-Sorin Mureşan
Publisher: Springer Fachmedien Wiesbaden
Abstract
Among its many negative effects, the 2007–2009 economic and financial crisis destroyed large amounts of monetary assets. It also cemented the previously creeping process of decay and dissolution of values, of social consensus and social peace.
Now, while the years long huge quantitative easing programmes worth thousands of billions of US dollars and Euros bought us some time, there is an urgent need of profound reform and restructuring of our systems of national organization in politics and economics. For doing this we need to look into their roots.
When systemic political and economic reform is at stake, such as the case currently is with financial institutes, it is necessary to understand the principles of macroeconomic order, of the legislative, institutional and conceptual context and framework in which all economic agents, banks, insurers, etc. act. Among the good examples in which governments successfully managed to rebuild the framework and make a fast comeback after defeat in war, after material, social and spiritual destruction, is Germany.
Helped by the 50% war debt cut under the London Debt Agreement of 1953, the then newly introduced ordo-liberal market economy system managed to make the German economy recover and grow for several decades. The country made a comeback (but politically still with somewhat limited access) into the small global leadership team of the West.
This book chapter addresses the core principles which lay at the basis of national legislation and institutions which regulate economic and social life in the functional national economy of the Social Market Economy in Germany. Financial institutes are at the core of the national economic order and therefore in order to understand how to restore their credibility, we will look at principles and the regulative context in which they work.