21-04-2021 | Issue 4/2021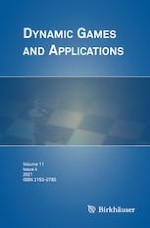 Privacy, Patience, and Protection
Journal:
Authors:

Ronen Gradwohl, Rann Smorodinsky
Important notes
Gradwohl gratefully acknowledges the support of National Science Foundation grant 1718670. Smorodinsky gratefully acknowledges United States-Israel Binational Science Foundation and National Science Foundation grant 2016734, the German-Israel Foundation grant I-1419-118.4/2017, the Ministry of Science and Technology grant 19400214, Technion VPR grants, and the Bernard M. Gordon Center for Systems Engineering at the Technion. Declarations of interest: None. Data sharing not applicable to this article as no datasets were generated or analyzed during the current study.
Publisher's Note
Springer Nature remains neutral with regard to jurisdictional claims in published maps and institutional affiliations.
Abstract
We analyze repeated games in which players have private information about their levels of patience and in which they would like to maintain the privacy of this information vis-à-vis third parties. We show that privacy protection in the form of shielding players' actions from outside observers is harmful, as it limits and sometimes eliminates the possibility of attaining Pareto-optimal payoffs.