01-04-2021 | Issue 4/2021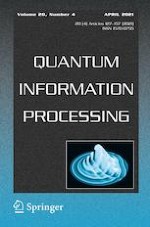 Probing Chern number of quasicrystals with disorders in optical lattices
Journal:
Authors:

Sheng Liu, Qi-Zhe Hou
Important notes
Publisher's Note
Springer Nature remains neutral with regard to jurisdictional claims in published maps and institutional affiliations.
Abstract
We propose a scheme that uses ultra-cold fermionic atoms trapped in an optical lattice to detect the exotic topological band structure of quasicrystals with or without disorders. Analogous with the Wannier function technique applied in crystals for topological band theory, we generalize this approach to measure the topological invariants of the Harper model with or without disorders for describing quasicrystals. In addition, we theoretically explained that the non-integer shift of the center of the Wannier function exactly corresponds to the Chern number of the quasicrystal, which is different from crystals. Besides, the Chern number of the system can be directly detected from measuring the center of mass of a cloud of atoms with the standard in situ absorption imaging technique, meaning that our scheme can be realized in current experiments.