18-07-2020 | Issue 3/2020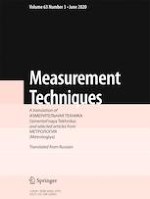 Problems of Ensuring Metrological Traceability of Quality Control Measurement Results for Food Products and Food Raw Materials
Journal:
Authors:

M. Y. Medvedevskikh, A. S. Sergeeva
Important notes
Translated from Izmeritel'naya Tekhnika, No. 3, pp. 64–70, March, 2020.
The article raises the problem of ensuring metrological traceability of quality and nutritional value measurement results for food products and food raw materials: water (moisture), nitrogen (protein, crude protein), fat, ash and carbohydrate content. The problem under consideration can be solved by applying reference materials of food composition, traceable to state primary measurement standards GET 173-2017 and GET 176-2019 and primary reference measurement procedures (PRMP), for attestation of measurement procedures and accuracy verification of measurement results. The article discusses the results of PRMP development for measuring mass fraction of fat, ash and carbohydrates in food products and food raw materials, and mass fraction of crude fat (oil content) in oilseeds and products based on them. The paper also presents metrological characteristics of reference materials of the composition of dried dairy products, dried grain and dairy-grain cereals for babies, egg powder, freeze-dried meat products, animal feed. The results of the work allow for building a chain of metrological traceability from GET 173-2017, GET 176-2019 and PRMP to routine measurement procedures, thereby ensuring the uniformity of measurements of nutritional value of food products.