04-01-2021 | Issue 2/2021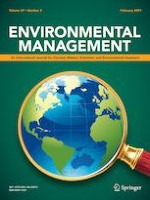 Process Makes Perfect: Perceptions of Effectiveness in Collaborative Environmental Governance
Journal:
Authors:

Amanda Y. Lindgren, Maureen G. Reed, James P. Robson
Important notes
Publisher's note
Springer Nature remains neutral with regard to jurisdictional claims in published maps and institutional affiliations.
Abstract
In evaluating effectiveness for collaborative environmental governance arrangements, a key concern is describing not just the processes and actors that are a part of these systems, but also the impacts that these processes have on ecological and social conditions. Existing research delineates an emphasis on process variables over outcome variables, as well as the difficulties of demonstrating causal relationships between collaborative governance processes and ecological outcomes. In this paper, we examined how process and outcome criteria are used by sponsors, industry practitioners, and participants of collaborative environmental governance (CEG) arrangements in Canada's forest sector to ascertain effectiveness. We explicitly sought evidence from sponsors and industry practitioners of self-described effective forest advisory committees, anticipating that sponsors or practitioners might place greater emphasis than participants on outcome criteria over process criteria. We analyzed data from a nation-wide survey of forest advisory committee participants, conducted interviews with sponsoring agencies, and completed two in-depth case studies. We found that sponsors and industry practitioners, like participants, perceived a strong relationship between process and effectiveness. The perspectives of all participants helped us articulate ten key process criteria that they determined as essential for CEG. By including the insights of sponsoring agencies, our study provides both on-the-ground and management interpretations of process and outcomes as well as a nuanced approach to understanding the relationship between the two. However, we conclude that systematic evaluation approaches involving outcome-based criteria are still necessary and would provide a clear step towards encouraging accountability in CEG decision-making, both for sponsors and members.