01-06-2014 | Original Article | Issue 2/2014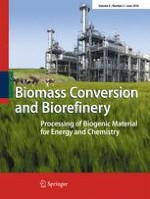 Production and purification of keratinase using chicken feather bioconversion by a newly isolated
Aspergillus fumigatus

TKF1: detection of valuable metabolites
Journal:
Authors:

Tanmay Paul, Arpan Das, Arpita Mandal, Suman K Halder, Pradeep K. DasMohapatra, Bikas R. Pati, Keshab C. Mondal
Important notes
Electronic supplementary material
The online version of this article (doi:
10.​1007/​s13399-013-0090-6
) contains supplementary material, which is available to authorized users.
Abstracts
The strain
Aspergillus fumigatus
TKF1 (Genbank-JQ268555), isolated from soil of poultry waste site, produced extracellular keratinase in basal medium [0.05 % K
2
HPO
4
, 0.025 % MgSO
4
, 0.02 % CaCO
3
, 0.5 % NaCl and 0.015 % FeSO
4
(
w
/
v
)] at 30 °C in pH 6 with 0.5 % supplementation of raw chicken feather after 84 h. Further statistical modeling (response surface methodology) was applied to optimized condition for keratinase production was followed by 84.33 h fermentation time at 30.2 °C and 0.74 % (
w
/
v
) feather supplement with initial pH 6.4. The response surface data and parametric optimization of the fermentation medium (one variable at a time) both condition satisfactorily gave 2.5-fold higher production than its unoptimized state. This enzyme preparation could disintegrate whole chicken feathers and reduced of disulphide bridges were also detected, increasing with incubation time. The purified keratinase was 24.3-kDa molecular weight, monomer in nature, and exhibited a significant stability and compatibility with temperature and pH. Feather degradation lead to an increase in oligopeptides and free amino acids such as cystein, therionine, phenylalanine, leucine, valine, and isoleucine. Moreover, methionine and phenylalanine were also produced as microbial metabolites. The importance of these finding is appropriate for future applications in agricultural and pharmaceutical industries.