01-12-2018 | News | Issue 12/2018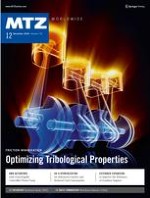 Products
Journal:
Authors:

Thomas Schneider, Mathias Heerwagen
Mazda has updated the range of engines for its CX-3 compact SUV. All power plants now available are four-cylinder units that comply with Euro 6d-Temp: a 2.0-l turbocharged gasoline engine in two power output levels and a new 1.8-l diesel. The entry-level engine is a diesel unit which has grown by 0.3 l compared to its predecessor. It features a very low compression ratio (14.8:1) and now has a maximum output of 85 kW at 4000 rpm, an increase of 8 kW compared to before. Maximum torque remains at 270 Nm at 1600 to 2600 rpm. It meets Euro 6d-Temp with the aid of an NO
x
storage catalyst and without the need for an SCR system, which, according to the company, has been achieved in particular by a reduction in pressure and temperature in the combustion chamber due to the larger displacement and by combined high-pressure and low-pressure exhaust gas recirculation. The updated gasoline engines have a maximum output of 89 and 110 kW respectively at 6000 rpm and both develop 207 Nm of torque at 2800 rpm. Neither engine requires a gasoline particle filter. According to Mazda, they meet the upcoming emissions standard by an increase in injection pressure to 300 bar, six-hole fuel injectors, multiple injection, a new piston shape, and optimized flow conditions in the combustion chamber.
×
...