Published in: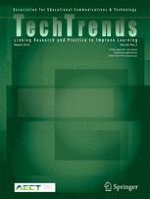 01-03-2016 | Original Paper
Professional Development Considerations for Makerspace Leaders, Part One: Addressing "What?" and "Why?"
Published in: TechTrends | Issue 2/2016
Login to get access
Abstract
As makerspaces begin to move into school libraries and classrooms, there is a growing need for professional development to help K-12 educators answer common questions such as "what is a makerspace," "why should I bother with a makerspace," "how do I run a makerspace," and "how do I teach from a makerspace?" In part one of this two-part series, content and professional development activities are recommended to help educators answer the "what" and "why" questions. These questions typically come up first and if adequately addressed, can help motivate educators to dig deeper into the how questions that are addressed in part two of this series. This article summarizes related literature and best practices from maker leaders to ground recommenced professional development activities that may be applied in workshops or in the authentic context of making.