04-06-2020 | Original Paper | Issue 2/2021 Open Access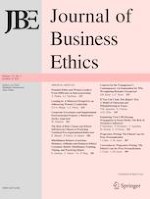 Progressive Pricing: The Ethical Case for Price Personalization
Journal:
Authors:

Jerod Coker, Jean-Manuel Izaret
Important notes
The original version of this article was revised due to a retrospective Open Access order.
Publisher's Note
Springer Nature remains neutral with regard to jurisdictional claims in published maps and institutional affiliations.
Abstract
Price discrimination is widely considered unethical/unfair by consumers, as has been borne out by decades of psychological research and mainstream press reporting. However, little academic work has been done to investigate the ethics of price discrimination. The work that has been done to date concludes that while price discrimination is not unethical, despite widespread lay perceptions, it is at best morally neutral. We argue price discrimination is
more
ethical than unitary pricing, when done 'progressively,' meaning firms charge customers as a function of their willingness-to-pay. We introduce this specific kind of price discrimination as 'Progressive Pricing' and demonstrate it ethically outperforms a 'Unitary Pricing' scheme (where everyone pays the same price, regardless of their willingness-to-pay), at least within a broadly consequentialist framework. We do this by comparing a Unitary Pricing scheme to a Progressive one, analyzing them through the lenses of four different consequentialist 'Social Welfare Functions' (Utilitarian, Egalitarian, Prioritarian, and Leximin), which are used by welfare economists and philosophers to rank the distributions of different social outcomes, concluding that Progressive Pricing is preferred regardless of which Social Welfare Function(s) one finds most plausible.