02-01-2020 | Original Paper | Issue 4/2021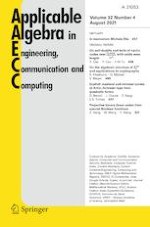 Projective binary linear codes from special Boolean functions
Authors:

Ziling Heng, Weiqiong Wang, Yan Wang
Important notes
The work of Z. Heng was supported in part by the National Science Foundation of China under Grant 11901049 and in part by the Fundamental Research Funds for the Central Universities, CHD, under Grant 300102129301. The work of Y. Wang was supported by the National Natural Science Foundation of China under Grant 61902304.
Publisher's Note
Springer Nature remains neutral with regard to jurisdictional claims in published maps and institutional affiliations.
Abstract
Linear codes with a few weights have nice applications in communication, secret sharing schemes, authentication codes, association schemes, block designs and so on. Projective binary linear codes are one of the most important subclasses of linear codes for practical applications. The objective of this paper is to construct projective binary linear codes with some special Boolean functions. Four families of binary linear codes with three or four weights are derived and the parameters of their duals are also determined. It turns out that the duals of these codes are optimal or almost optimal with respect to the sphere-packing bound. As applications, the codes presented in this paper can be used to construct association schemes and secret sharing schemes with interesting access structures.