06-08-2018 | Original | Issue 11/2018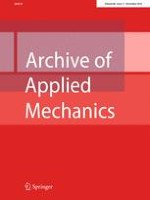 Proper orthogonal decomposition for substructures in nonlinear finite element analysis: coupling by means of tied contact
Journal:
Authors:

Lei Zhou, Jaan-Willem Simon, Stefanie Reese
Important notes
Publisher's Note
Springer Nature remains neutral with regard to jurisdictional claims in published maps and institutional affiliations.
Abstract
The finite element analysis of complex structures involves a high computational effort, since the equation system to be solved includes a large number of degrees of freedom. This holds particularly in nonlinear finite element analysis. In order to reduce the numerical effort, the total system is subdivided into substructures which are analyzed separately from each other. The computing time can be further reduced, if the number of degrees of freedom of the substructures and thereby the dimension of the global equation system are decreased. In the present paper, this is achieved by projection-based model order reduction applied at the level of the substructures. The corresponding modes include internal and boundary nodes. The precomputation is carried out either directly with respect to the global system or only on one representative substructure. For the coupling, a new surface-to-surface tied contact formulation based on the penalty method is presented which couples the reduced and unreduced substructures. This is also possible for non-matching meshes. Several nonlinear numerical examples are performed which show the feasibility of the new approach.