20-11-2020 | THERMOPHYSICAL MEASUREMENTS | Issue 7/2020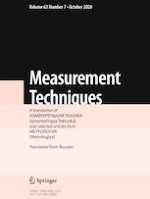 Prospects of Using a Modified Null Method for Temperature Measurement with Resistance Sensors
Journal:
Authors:

A. V. Filatov, K. A. Serdyukov, A. A. Novikova
Important notes
Translated from Izmeritel'naya Tekhnika, No. 7, pp. 51–55, July, 2020.
The article describes and analyzes the existing problems when using linear measuring devices for measuring temperature. When measuring temperature with resistive temperature sensors, a modified null method is proposed to use, which ensures the invariance of the meter to changes in the measuring path gain. The null balance in the measuring path is maintained automatically by synchronous pulse-amplitude and pulse-width modulations and using of a tracking circuit for adjustment of the width signal. Once the null balance is achieved, the width modulation control pulse duration will be linearly related to the resistance of the temperature sensor. Modification of the null method simplifies the design of a thermometer with a resistive sensing element. In this proposed mechanism, two precision resistors which are passive units replace the active precision units to increase the accuracy and improve the linearity of its conversion characteristics. The work reports the errors of temperature measurements by the modified null method and describes the calibration of a manufactured digital thermometer with a miniature platinum resistance temperature sensor. The proposed modification of the null measurement method can be used to construct devices comprising a sensor with a sensing element, namely electrical resistance that is altered under the influence of a non-electrical parameter.