15-01-2021 | Issue 2/2021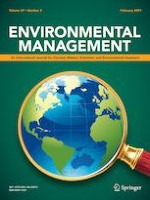 Protected Areas Established by Local Communities through Direct Democracy Encompass Habitat for Species as Effectively as Protected Areas Planned over Large Spatial Scales
Journal:
Authors:

Chad Stachowiak, Benjamin J. Crain, Kailin Kroetz, James N. Sanchirico, Paul R. Armsworth
Important notes
Supplementary information
Publisher's note
Springer Nature remains neutral with regard to jurisdictional claims in published maps and institutional affiliations.
Abstract
Local communities contribute to broader biodiversity protection goals when managing their immediate environment when they establish protected areas. However, their efforts are geographically constrained and often uncoordinated. We compare protected areas established by local communities through the direct democracy process in California, US, to protected areas created and managed by two conservation actors working over larger spatial scales, one private and one public. Despite being geographically constrained to smaller spatial scales, protected areas established by local communities were as effective as those established by larger scale conservation actors at representing different habitat types. However, local ballot protected areas tended to protect more common species. All three protected area networks often performed no better than random in terms of siting protected areas to support narrow range species and rare habitats. Improved accounting of local communities' protection efforts would allow organizations with greater funding flexibility to focus their efforts to increase representation of rarer species and habitats in protected area systems.