07-09-2019 | Original Contribution | Issue 10/2019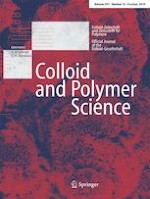 PSMA-
b

-PNIPAM copolymer micelles with both a hydrophobic segment and a hydrophilic terminal group: synthesis, micelle formation, and characterization
Journal:
Authors:

Xiaoyan Zhao, Guorong Shan
Important notes
Publisher's note
Springer Nature remains neutral with regard to jurisdictional claims in published maps and institutional affiliations.
Abstract
Block copolymers of poly(
N
-isopropylacrylamide) (PNIPAM) with both a hydrophobic segment and a hydrophilic terminal group in the same chain were synthesized by reversible addition-fragmentation chain-transfer (RAFT) polymerization. One is a diblock copolymer with only hydrophobic poly (stearyl methacrylate) (PSMA) segment, while the other is a triblock copolymer with both a PSMA segment and a hydrophilic terminal group. Uniform spherical micelles were obtained. The triblock copolymer micelles showed a distinct evolution, first becoming small, then becoming larger, and finally becoming stable. The transition process was fast and reversible with temperature. Although the hydrophobic PSMA chain segment lowered the lower critical solution temperature of the diblock copolymer micelles, that of the triblock copolymer micelles was almost as high as that of the PNIPAM homopolymer. In the triblock copolymer, hydrophobic chains and hydrophilic segments co-existed, and their opposing effects partially canceled. The hydrophilic terminal group on the triblock copolymer made a great difference.