2021 | OriginalPaper | Chapter
PUNCH Powerglide's Dedicated Hybrid Transmission (DHT)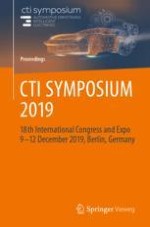 Read first chapter
Authors: Philippe Ramet, Wolfgang de Loth
Publisher: Springer Berlin Heidelberg
Abstract
The Automotive industry is currently looking for efficient hybrid transmission concepts for use with a single electric machine. The aim is to find a cost effective alternative to current parallel and power-split hybrid concepts.
To meet this challenge, PUNCH Powerglide is introducing a novel hybrid concept that delivers electric and mechanical states using less number of gears and dog clutches to maximize efficiency.
The proposed DHT concept contains a unique patented gears and shafts arrangement, in a very compact environment to achieve very stringent package space of new OEM platform. This DHT offers a full-integrated high-voltage solution, with its own electric machine and electronic power.
The transmission operation requires a very precise and reliable operation of the dog clutches chosen to support the highest efficiency of the overall powerflow.
The synchronization of the dog clutch during the gear change is managed with the introduction of the EVT mode, which makes this DHT concept a powershift transmission.
The base variant has been developed to propose four mechanical speeds, which allow a good compromise between functionality and system cost. By applying slight changes within the modular design, the proposed concept can also evolve to a 2-gear transmission with EVT mode or even a single gear transmission to support lowest possible transmission cost while still being able to manufacture all the variants on the same manufacturing line.