01-06-2016 | Issue 6/2016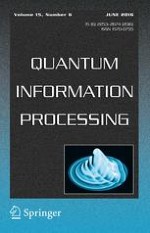 Quantum cheques
Journal:
Authors:

Subhayan Roy Moulick, Prasanta K. Panigrahi
Abstract
We propose the idea of a quantum cheque scheme, a cryptographic protocol in which any legitimate client of a trusted bank can issue a cheque, that cannot be counterfeited or altered in anyway, and can be verified by a bank or any of its branches. We formally define a quantum cheque and present the first unconditionally secure quantum cheque scheme and show it to be secure against any no-signalling adversary. The proposed quantum cheque scheme can been perceived as the quantum analog of
Electronic Data Interchange
, as an alternate for current
e-Payment Gateways
.