01-06-2019 | Issue 6/2019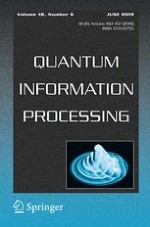 Quantum e-commerce: a comparative study of possible protocols for online shopping and other tasks related to e-commerce
Journal:
Authors:

Kishore Thapliyal, Anirban Pathak
Important notes
Publisher's Note
Springer Nature remains neutral with regard to jurisdictional claims in published maps and institutional affiliations.
Abstract
A set of quantum protocols for online shopping is proposed and analyzed to establish that it is possible to perform secure online shopping using different types of quantum resources. Specifically, a single photon based, a Bell state based and two 3-qubit entangled state-based quantum online shopping schemes are proposed. The Bell state-based scheme, being a completely orthogonal state-based protocol, is fundamentally different from the earlier proposed schemes which were based on conjugate coding. One of the 3-qubit entangled state-based scheme is built on the principle of entanglement swapping which enables us to accomplish the task without transmission of the message encoded qubits through the channel. Possible ways of generalizing the entangled state-based schemes proposed here to the schemes which use multiqubit entangled states are also discussed. Further, all the proposed protocols are shown to be free from the limitations of the recently proposed protocol of Huang et al. (Quantum Inf Process 14:2211–2225,
2015
) which allows the buyer (Alice) to change her order at a later time (after initially placing the order and getting it authenticated by the controller). The proposed schemes are also compared with the existing schemes using qubit efficiency.