01-11-2019 | In the Spotlight | Issue 11/2019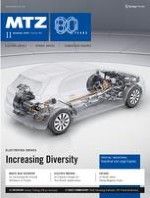 Quo Vadis, Mobility Transformation?
Journal:
Author:

Alexander Heintzel
Discussions on the future development of our energy and transportation sectors are often tendentious, emotionally charged and fraught with misinformation. Reports of silver-bullet technological breakthroughs alternate with dire accounts of imminent environmental collapse. It has become difficult to avoid the suspicion that information is being intentionally withheld, or spun, for political reasons or to protect the economic interests of certain stakeholders. ...