28-06-2019 | Issue 1/2020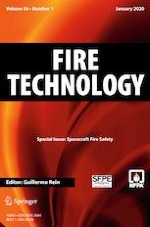 Radiation from Flames in a Microgravity Environment: Experimental and Numerical Investigations
Journal:
Authors:

L. Carmignani, K. Dong, S. Bhattacharjee
Important notes
Publisher's Note
Springer Nature remains neutral with regard to jurisdictional claims in published maps and institutional affiliations.
Abstract
Fire safety in microgravity is extremely important due to the potential threat of fire for astronauts and spacecraft. One of the main effects of reduced gravity on combustion processes is the suppression of buoyancy. When the flow field around a flame is very mild, radiative exchanges between flame, solid fuel, and environment can determine the flame strength and growth. During the recent Burning and Suppression of Solid Fuels (BASS) investigation, several thin flat acrylic samples were burned in opposed-flow configuration with flow velocity varying between 0 cm/s and 42 cm/s, thicknesses from 100 µm to 400 µm, and oxygen concentration between 17% and 22%. Total radiation recorded by a radiometer positioned at a fixed location with a complete view of the spreading flame is presented as a function of different parameters. The radiometer signal is found to vary strongly with flow velocity, all other conditions unchanged. By processing the experiment videos with a MATLAB image processing code, data on flame length, projected flame area, sooty area (represented by the yellow color as opposed to blue), and burning rate (through evaluation of instantaneous flame spread rate) are obtained to explore if the radiation signature can be correlated with sooty or overall flame areas, or the burning rate. A comprehensive numerical model that includes gas and surface radiation, including radiation feedback from the gas to the solid, but not soot, is used to explore the same parametric study of the BASS flames' total radiation signature. The detailed information obtained from the numerical solutions are used to interpret the radiation measurements in the microgravity experiments, which can be used for testing and refining further modeling efforts.