01-09-2014 | Issue 17/2014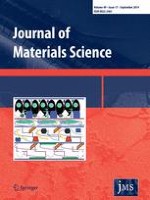 Random
l

-lactide/ε-caprolactone copolymers as drug delivery materials
Journal:
Authors:

Annalisa Dalmoro, Anna Angela Barba, Marina Lamberti, Mina Mazzeo, Vincenzo Venditto, Gaetano Lamberti
Abstract
In this work, the degradation phenomena and the release kinetics of an active molecule from matrices systems made of random copolymers of ε-caprolactone (CL) and
l
-lactide (LA) were investigated by exposing the matrices, shaped as thin films, to simulated physiological environments. α-tocopherol was incorporated into the films as hydrophobic model molecule with the aim to investigate both its release pattern and its effect on erosion phenomena. In particular, the films have been kept at controlled conditions (temperature, stirring, pH) and they were characterized in terms of weight loss, water uptake, thermal properties, and change of number average molecular weight, in order to explain the molecule release kinetics and the degradation pathways of the copolymers. The main findings of this study are that the erosion phenomena take place significantly only when a critical value of the molecular mass was obtained in the sample; that the presence of the drug stabilizes the matrix and it decreases the rate of molecular mass decrease; and that crystallinity, reducing the chain mobility, causes lower erosion rates.