30-03-2019 | Issue 8/2019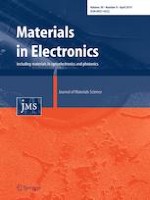 Rapid formation of Cu–Cu joints with high shear strength using multiple-flocculated Ag nanoparticle paste
Authors:

Bo Hu, Fan Yang, Ye Peng, Hongjun Ji, Shihua Yang, Ming Yang, Mingyu Li
Important notes
Bo Hu and Fan Yang have contributed equally to this work.
Publisher's Note
Springer Nature remains neutral with regard to jurisdictional claims in published maps and institutional affiliations.
Abstract
A new type of Ag nanoparticle (NP) paste for rapid sintering was prepared by controlling the thickness of the NP capping agent. The Ag NP paste was combined with a rapid thermo-compression (RTC) method to form a reliable Cu–Cu joint. The shear strengths of the Cu/Ag NP/Cu joints were 46.8 MPa and 90.7 MPa after sintering at 300 °C for only 5 s and 20 s, respectively. The sintering sequence phenomenon was observed, and the differences in microstructure between the pressure-assisted and pressureless joints were investigated. Robust bonding at the lattice level between the Ag NPs and Cu substrate was observed by high-resolution transmission electron microscopy, and this bonding contributed to the high shear strength obtained under rapid sintering conditions. A commercially acceptable alternative solution to achieving reliable Cu–Cu joint formation was obtained, especially for thermo-sensitive devices.