01-12-2018 | Practice-oriented paper | Issue 1/2018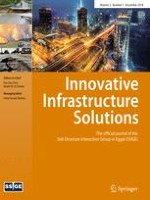 Recommendations for generating dispersion images of optimal resolution from active MASW survey
Journal:
Authors:

Jumrik Taipodia, Dipjyoti Baglari, Arindam Dey
Abstract
Multichannel Analysis of Surface Waves (MASW) is proving to be the most recent and popular non-invasive method which can characterize the subsurface in quick and better ways. This article reports a detailed study of active MASW survey conducted in a soil site characterized by the presence of heterogeneous soil stratification with crushed debris. In this regard, the effect of receiver layout and key data acquisition parameters (offset distance, far-field and near-field phenomena, receiver spacing, total receiver spread length and numbers of deployed receivers) on the resolution of the obtained dispersion image is elucidated. The influence of the signal pre-processing parameters such as sampling frequency, sampling length, filtering and muting, is also highlighted. The effect of source characteristics on the quality of the recorded wavefield has been elaborated, and in this context, the enhancement of the resolution of dispersion image by stacking has also been discussed. Based on the outcomes, it is recommended that the sampling frequency and sampling time should be optimal so that complete propagation of wave phases through the geophone array is achieved, while at the same time, the time-stamp suffers minimum noise adulteration. Combined application of band-pass filtering and optimal temporal muting is required to obtain best resolution dispersion images. For sites having predominantly softer soils at the shallower depths (
V
s,30
< 100 m/s), an optimal offset of 4–6 m with an inter-receiver spacing of 1 m produces the best resolution dispersion images. The resolution of the dispersion image at the lower frequencies can be increased either by using a heavier source, or adopting multiple stacking of dispersion images generated from low energy impacts.