Published in: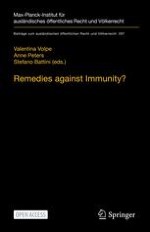 Open Access 2021 | OriginalPaper | Chapter
Reconciling State Immunity with Remedies for War Victims in a Legal Pluriverse
Abstract
The chapter explains the threefold aspiration of the book as an academic, societal, and diplomatic project. It introduces the three interwoven themes of international law arising in the German-Italian saga: state immunity, reparation for serious human rights violations committed during World War II, and the interplay between international and domestic law, notably the role of courts therein. The chapter proposes an approach of 'ordered pluralism' to coordinate this interplay, and finally tables a 'modest proposal' for a way out of the current impasse.