01-12-2018 | Short Communication | Issue 1/2018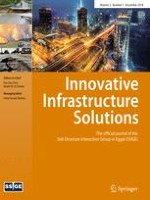 Reduction of lateral earth pressure using Geo-foam blocks
Journal:
Authors:

Mahmoud Samir El-kady, Majed A. Alzara, Mohamed Anwar Farouk
Abstract
Geo-foam is an expanded polystyrene (EPS) or extruded polystyrene manufactured into large lightweight blocks. EPS Geo-foam density is only about 1% that of soil and rock, making it a superior, ultra-lightweight fill material that significantly reduces the stress on underlying subgrades. The lighter load can reduce settlements and can improve stability against bearing and slope failures. Geo-foam offers special advantages for construction on soft ground, slope stabilization, and retaining walls. A parametric study is carried out using ADINA program, different values of Geo-foam thickness (
t
), and Geo-foam height (
H
). Loaded and unloaded retaining wall models are also studied. The study aims at achieving the lowest possible stresses in both soil and the retaining wall body. This will reduce the expected soil settlement. Results showed that the most effective and preferable value of the Geo-foam thickness (
t
) is equal to 1.00 m. Numerical results pointed indicated that the decrease in soil settlement was about 35% when using Geo-foam of thickness equal to 1.00 m. Also, results showed that soil settlements and lateral stresses decreased by about 20% for loaded cases for different values of the Geo-foam thickness when compared with unloaded ones.