01-01-2020 | SPECIAL ISSUE | Issue 1/2020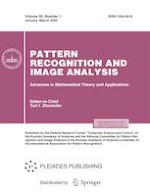 Reed Sternberg Cell Recognition in Hodgkin's Lymphoma
Authors:

U. V. Punko, N. A. Volorova, V. S. Prikhodko
Important notes
Uladzislau Valerevich Punko.
Born November 12, 1997. In 2015, graduated from the Belarusian State University of Informatics and Radioelectronics (BSUIR) with a degree in Computer Science and Programming Technology, Faculty of Computer Systems and Networks. Currently a Master's student in Computer Science. Author of several scientific papers on computer vision. Research interests: machine learning, computer vision, image processing.
Natalya Alekseevna Volorova.
Born November 26, 1953. In 1976, graduated from the Minsk Radio Engineering Institute (currently BSUIR) with a degree in Electronic Computing. In 1987, defended her candidate's dissertation. Candidate of Technical Sciences, Associate Professor. Currently is the Head of the Department of Computer Science of the Belarusian State University of Informatics and Radioelectronics (BSUIR). Author of over 130 scientific papers and inventions. Research interests: modeling and analysis of random phenomena, bid data processing.
Vladimir Sergeevich Prikhodko.
Born July 27, 1998. Fifth year Bachelor's student in Pediatrics at Grodno State Medical University (GrSMU). Author of multiple scientific papers in the field of medicine. Research interests: pathological physiology, pathological anatomy, oncology.
Abstract
A technique for the morphological diagnosis of Reed Sternberg cells in Hodgkin's lymphoma using artificial neural networks is proposed. A flexible architecture of a software complex comprising several modules for automatic biopsy analysis is developed. These software modules, consisting of artificial neural networks, are necessary for processing raw data. Various techniques for training neural networks under conditions of insufficient data for the current and similar problems are analyzed.