01-04-2014 | Wissenschaftlicher Beitrag | Issue 2/2014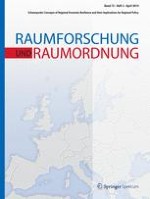 Regional Economic Resilience: A Schumpeterian Perspective
Author:

PhD Prof. Dr. James Simmie
Important notes
It is not the strongest of the species that survives, nor the most intelligent that survives. It is the one that is the most adaptable to change.
Charles Darwin (1859) Origin of Species
Abstract
This paper takes up the Schumpeterian argument that innovations drive economic recovery following cyclical phases of recession and depression. The performance of the regional innovation systems of two contrasting regions in England is examined in the light of this argument. It is shown that the long-term development of the regions' respective innovation systems contributed significantly to the long-run adaptation and consequential economic resilience of their economies in the face of periodic external economic shocks. It is also argued that regional innovation systems policies can contribute to the adaptation of regional economies and therefore their economic resilience.