14-04-2015 | Research Paper | Issue 3/2016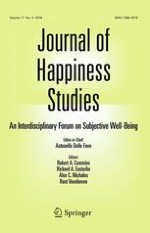 Relations among Personality Characteristics, Environmental Events, Coping Behavior and Adolescents' Life Satisfaction
Journal:
Authors:

Michael D. Lyons, E. Scott Huebner, Kimberly J. Hills
Abstract
This study extended current positive psychological research by examining the mediating role of coping behavior in the relations between environmental and intrapersonal variables as predictors of adolescent global life satisfaction, based on Evans' (Soc Indic Res 33:47–88,
1994
) proposed model. Specifically, we assessed the relations between personality traits (extraversion, neuroticism) and environmental experiences (stressful life events) predicting early adolescents' global life satisfaction as mediated by approach and avoidance coping behaviors using a sample of 529 students from one middle school in the southeastern United States. The results supported portions of Evans' model. Statistically significant relations were found for a number of individual pathways between personality and environmental variables (i.e., predictors) and coping variables (i.e., mediators) as well as between approach coping (i.e., one mediator) and life satisfaction (i.e., outcome). Additionally, a small but statistically significant pathway was found between extraversion and life satisfaction when mediated by approach coping. Results suggest that personality, environmental stressors and coping behaviors may play a role in the development of life satisfaction among early adolescents.