13-06-2019 | Issue 1/2020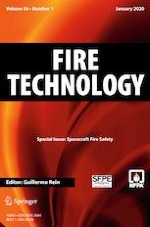 Relationship Between Blow-Off Behavior and Limiting Oxygen Concentration in Microgravity Environments of Flame Retardant Materials
Journal:
Authors:

Shuhei Takahashi, Kaoru Terashima, Muhammad Arif Fahmi bin Borhan, Yoshinari Kobayashi
Important notes
Publisher's Note
Springer Nature remains neutral with regard to jurisdictional claims in published maps and institutional affiliations.
Abstract
The flammability characteristics of materials in microgravity are some of the most important factors for fire safety in space. It has been reported that the limiting oxygen concentration (LOC) in microgravity is different from that in normal gravity (LOC1g), which is measured by downward spread tests and is often used as an index of flammability. However, it is expensive and time consuming to conduct screening flammability tests in microgravity environments. Hence, it is necessary to develop a novel procedure for predicting the flammability of a material with data measured in normal gravity. In our previous study, we developed a simplified model for flame spread tests in opposed flow by scale analysis. Here, we present the flammability maps of several flame retardant materials in opposed flow obtained by ground-based blow-off tests and parabolic flight experiments, and the trends of the flammability maps are discussed with the developed model. Materials whose LOC increased monotonically with the opposed flow velocity and whose pyrolysis temperature was less than 823 K had a lower LOC in microgravity environments than in normal gravity; the other investigated materials showed larger LOC in microgravity than that in normal gravity. These trends were well explained by the simplified model, and the predicted limiting curve agreed quantitatively with the experimental result for thermally thin materials, which indicates the usefulness of the developed model.