01-10-2009 | Ferroelectrics | Issue 19/2009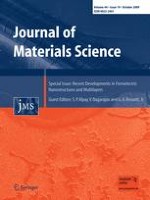 Relaxor behavior of (1 −
x

)BaTiO3–

x

(Bi3/4Na1/4)(Mg1/4Ti3/4)O3 (0.2 ≤

x

≤ 0.9) ferroelectric ceramic
Journal:
Authors:

Liying Wu, Xiaoli Wang, Jimmy H. Wang, Ruyan Guo, Amar S. Bhalla
Abstract
The (1 −
x
)BaTiO
3
–
x
(Bi
3/4
Na
1/4
)(Mg
1/4
Ti
3/4
)O
3
(0.2 ≤
x
≤ 0.9) ceramics were prepared by conventional solid-state reaction route. Their dielectric properties were found to follow a modified Curie–Weiss law and an empirical Lorenz-type relation in respective temperature regions. Their dielectric relaxation times fit well with the Vogel–Fulcher relation for
x
= 0.2, 0.3, and 0.4. For
x
= 0.5, 0.6, 0.7, and 0.8, however, the fitting curves of Vogel–Fulcher relation showed certain deviation from the experimental data. Based on the theoretical treatment of Landau–Ginsburg–Devonshire theory, an approximate treatment of the
E
-field dependence of the permittivity was adopted and found to describe well the field dependence of the permittivity for
x
= 0.3 at temperatures equal to and below
T
m
(temperature of maximum dielectric permittivity). A combined Langevin-type expression used in the present work appears to give a good account for the field dependence of the permittivity, assuming polar regions are of a statistical cluster size. For polar clusters of linear dimension
L
~ 4–8 nm for instance, the fitted values of polarization are in the range of
P
~ 6.2–9.8 μC/cm
2
.