15-07-2020 | Issue 8/2020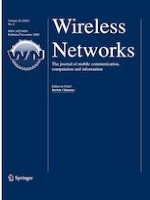 Relay selection for multi-source network-coded D2D multicast communications in heterogeneous networks
Journal:
Authors:

Hashem Kalbkhani, Mahrokh G. Shayesteh
Important notes
Publisher's Note
Springer Nature remains neutral with regard to jurisdictional claims in published maps and institutional affiliations.
Abstract
Multicast service is considered as a useful transmission mode for future mobile social services to deliver the traffic to multiple mobile users simultaneously. Device-to-device (D2D) multicast communication enables multiple proximate users to share the contents of their common interests directly. This paper aims to present a relay selection scheme for multi-source network-coded D2D multicast communication underlying heterogeneous cellular network which consists of macrocells and femtocells. We propose two methods for selecting efficient relays from the set of femtocell base stations (FBSs). The first method, named destination-blind relay selection, identifies those idle FBSs that can correctly decode all source messages. Since all identified relays may not be necessary, this method reduces the average transmission rate. Hence, in the second method named destination-aware relay selection, we find the minimum number of required relays by maximizing the spectral efficiency to make sure that all destinations can correctly decode all source messages. In contrast to the first method, the second method requires information about destinations. We present efficient solutions for the proposed methods and obtain their performance in terms of outage probability and spectral efficiency. We also derive analytical expressions for the outage probability to verify simulation results. It is shown that the introduced methods improve the spectral efficiency compared to the direct D2D multicast, random relay selection, and coordinated multi-point transmission. Further, the presented methods achieve lower outage probability than direct D2D multicast and random relay selection methods. The proposed methods reduce the average outage probability about 17 times and increase the average spectral efficiency about 16 times in comparison with direct multi-source D2D multicast, which indicate their efficiency.