26-03-2020 | Issue 8/2020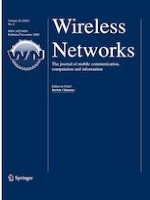 Reliability enhancement and packet loss recovery of any steganographic method in voice over IP
Journal:
Authors:

Parvaneh Amirzade Dana, Zahra Esmaeilbeig, Mohammad-Reza Sadeghi
Important notes
Publisher's Note
Springer Nature remains neutral with regard to jurisdictional claims in published maps and institutional affiliations.
Abstract
VoIP data is transmitted through a transport protocol called user datagram protocol (UDP) which is intrinsically unreliable. The quality of the voice or multimedia trasmitted during a VoIP session is not much affected after a few packet loss. However, if a secret message is embedded inside VoIP packets using any steganographic method, the integrity of the secret message can be undermined due to the packets being lost during transmission. In this paper, we propose a scheme which is capable of enhancing the reliability of any VoIP steganographic method. We first distribute
k
message bits into
k
successive RTP packets. Then, parity bits are used for reconstruction of lost bits caused by packet loss. The implementation of our scheme on matrix embedding using binary Hamming codes steganography results in a reasonable reliability, a good speech quality and a very high steganographic bandwidth of 3050 bps.