Published in: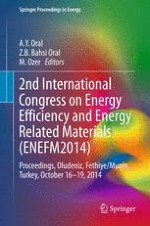 2015 | OriginalPaper | Chapter
Reliability Importance Measures of Components for Stand-Alone Hybrid Renewable Energy Microgrid
Abstract
This paper presents the results of a new approach on the reliability analyses of standalone hybrid microgrid based on components importance measures. The microgrid presented consists of wind, photovoltaic, diesel generator and energy storage systems for supplying an isolated load. Reliability models of the customers connected to the Microgrid with the mentioned components have been model using a new approach based on reliability block diagram algebra. Different microgrid design structures and component measures on the reliability of load points were examined on a standard low voltage benchmark microgrid. Finally, other novel approaches on how to rank components that make up standalone microgrid were investigated for reliability. The results show the possibility of modeling and reliability analyses of standalone microgrid using the proposed technique. Additionally, this paper presents results of the contribution of components to the system reliability based on the structure of microgrid. The work could be used in identifying direction, priority, upgrading and suggest the most efficient way to operate and maintain a microgrid.