2014 | OriginalPaper | Chapter
21. Reliability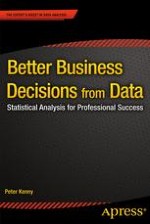 Read first chapter
Would You Trust That Bungee Cord?
Author: Peter Kenny
Publisher: Apress
Abstract
Statistics plays an important part in reliability studies but represents only a part of the mathematical theory involved.
Reliability
of a component, machine, or system can be defined as the probability that it will perform its required function in the desired manner under the operating conditions when it is required to so perform. Reliability, R, is thus a probability with a value between 0 and 1, 0 representing immediate failure and 1 representing the (impossible) situation of never suffering failure. The probability of failure is 1 – R.