13-09-2016 | Issue 3/2017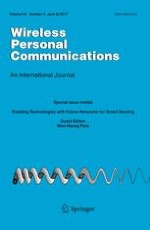 Removal of Sensing-Throughput Tradeoff Barrier in Cognitive Radio Networks
Journal:
Authors:

Gaurav Verma, O. P. Sahu
Abstract
Under the conventional approach of spectrum sensing in a cognitive radio (CR) system, in the start of each frame of duration
\(T\)
a time slot
\(\tau\)
is allocated for the spectrum sensing and
\(T - \tau\)
for the data transmission. During the sensing duration
\(\tau\)
, no data transmission is allowed, this invites a serious problem of sensing-throughput tradeoff. To overcome the problem of sensing-throughput tradeoff, this paper presents a new approach which with the help of the proposed decoder structure enables the CR system to execute the tasks of spectrum sensing and data transmission simultaneously. Under the proposed approach, the CR does not only ensure a sufficient level of protection required by the licensed users, but also improves utilization of underutilized portion of the licensed spectrum which is reflected in terms of its improved achievable throughput. The proposed approach is also implemented under the
m-out-of-k
rule of cooperation to overcome the effects of channel uncertainties such as the shadowing, multipath fading and the hidden terminal problems, resulting in a significant increase in its throughput compared to that under the non-cooperation.