23-05-2018 | Issue 8/2019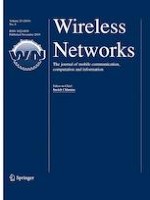 Resource refrain quota based routing protocol for delay tolerant network
Journal:
Authors:

Qaisar Ayub, Sulma Rashid
Abstract
The delay tolerant network Spray and Wait routing protocol minimizes resource consumption by defining the '
n
' number of message transmission quota. However, with same transmission quota, a large-size message consumes more buffer space, bandwidth and energy. Similarly, existing buffer management policies consider message-size, arrival-time, hop-count and do not notice the congestion a message has produce in the network. In order to address the aforementioned issues, we have proposed a routing protocol called as resource refrain quota based routing protocol for delay tolerant network. The proposed protocol assigns the transmission energy quota to 'n' number of message copies. Moreover, message was transmitted just to those nodes having high probability value to meet message destination. We have also devised a mechanism to drop those messages which are responsible to produce the congestion.