15-05-2019 | Issue 3/2019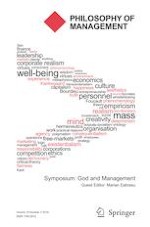 Respect as a Moral Response to Workplace Incivility
Journal:
Authors:

Leslie Sekerka, Marianne Marar Yacobian
Important notes
Publisher's Note
Springer Nature remains neutral with regard to jurisdictional claims in published maps and institutional affiliations.
Abstract
With the rise of incivility in organizational settings, coupled with an increase in discriminatory behavior around the world, we explain how these concerns have merged to become a pervasive workplace ethical issue. An ethical-decision making model is presented that is designed to help employees address issues of incivility with a moral response action, using Islamophobia and/or anti-Muslimism as an example. By adopting a proactive moral strength-based approach to embrace and address this issue, we hope to promote respect while also mitigating the lack of its presence. We explicate potential cognitive and affective influences that support an organizational member's desire and decision to respond to incivility in a reverential manner. Given the propensity for employees to turn away, become apathetic, or to simply ignore wrongdoing, scholars need to illustrate how a path to respectful behavior can be achieved. Our model highlights variables like group norms and anticipated emotions, punctuated by different forms of self-regulation. A Kantian view, underscoring the worth of every person, underpins our appeal.