Published in: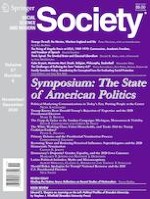 01-12-2020 | Symposium – The State of American Politics
Restoring Trust and Reducing Perceived Influence: Superdelegates and the 2020 Democratic Nomination
Published in: Society | Issue 6/2020
Login to get access
Abstract
For the 2020 presidential nomination, the Democratic Party reduced the influence of superdelegates. This reform was designed to appease Democratic voters by tipping the selection power toward voters and away from elites. Yet in 2020, superdelegates remained influential, as they retained the ability to endorse candidates early and shape the narrative and trajectory of the race.