2019 | OriginalPaper | Chapter
Reuse and Customization for Code Generators: Synergy by Transformations and Templates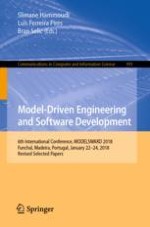 Read first chapter
Authors: Robert Eikermann, Katrin Hölldobler, Alexander Roth, Bernhard Rumpe
Publisher: Springer International Publishing
Abstract
Engineering languages for model-driven development (MDD) highly rely on code generators that systematically and efficiently generate source code from abstract models. Although code generation is an essential technique, there is still a lot of ad hoc mechanisms in use that prevent an efficient and reliable use and especially reuse of code generators.
The first part of the paper focuses on general mechanisms necessary to really allow reuse of flexible code generators. Based on these general considerations, we present a code generator infrastructure, that allows to easily develop a generator, but especially allows to adapt existing generators to different technology stacks and thus widely supports reusability, customizability, and flexibility.
In the second part of the paper, we present an integrated template- and transformation-based code generation approach. It enables efficient code generation of object-oriented code and retains the benefits of both approaches. Even more, its synergetic use improves usability beyond using just a single approach. Internally, an intermediate representation (IR) and a separation of the code generation process into three main steps is used. First, the input model is processed and transformed to the IR. Second, elements in the IR are manipulated by source and target language independent transformations. Target language specific implementations are added by templates, which are attached to IR elements. Third, the resulting IR is used by a template engine to generate code with a predefined set of default templates for a particular target language. The overall goal of this paper is to show how to address necessary code generator considerations to effectively and efficiently use engineering languages in MDD.