2008 | OriginalPaper | Chapter
Review of Empirical Data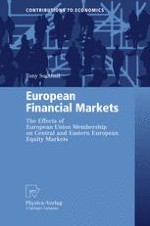 Read first chapter
Publisher: Physica-Verlag HD
Prior to presenting the details and findings of the analyses, it is useful to introduce the empirical data. The analyses of this study require several types of empirical data to address the identified research hypotheses.
Finally, quantitative data on a selected number of local and global macroeconomic factors related to explaining the performance of equity markets are required to enable the detailed analysis of how different factors affect the performance of equity markets prior to versus after the EU accession.
This chapter includes a description and a review of both the qualitative and the quantitative data and associated sources applied within the scope of this study.