Published in: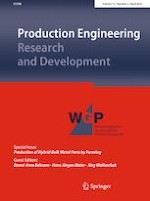 Open Access 06-01-2021 | Production Process
Review of recent developments in manufacturing lightweight multi-metal gears
Published in: Production Engineering | Issue 2/2021
Abstract
This paper provides a review of recent developments in the manufacturing of lightweight multi-metal components, and in particular gears. The literature has shown that significant efforts have been made in manufacturing light gears and numerous technical challenges exist when designing for and manufacturing with dissimilar metals including challenges in heating technologies, mechanical performance, processing parameters, metal compatibility and the interface layer between adjacent materials, as well as difficulties in multi-metal simulations. Whilst the scope of multi-metal manufacturing is vast, the main concentration of this study is on the main stages of multi-metal gear production, and specifically on preform production, multi-metal heating, intermetallic bonding, and modelling of essential forming parameters. The effects of each of these methods as well as the numerous approaches studied in the literature are presented, with a recommendation being made as to a processing route that may lead to a robust multi-metal gear with minimal production line modifications to conventional steel gears.
Publisher's Note
Springer Nature remains neutral with regard to jurisdictional claims in published maps and institutional affiliations.
2

Technologies for manufacturing lightweight gears

There are a vast number of techniques applied to achieve weight reduction of gears. A review of the most commonly used techniques is presented in the following sections.
3

Bi-metallic forging and preform production

A review of the literature has demonstrated numerous avenues and processing routes in the forging of multi-metal gears. The majority of the studies involve the use of a traditional forging press, with key differences being in the production of the dissimilar metal blanks and associated heating methods to overcome the challenge of differing thermal properties of the metals.
4

Blank heating methods

In order to achieve the required temperature profiles, two methods to heat the metal preforms were mainly explored in the literature: chamber furnace and induction heating.
5

Joining between multiple materials
6

Modelling of bi-metal gear forging processes

The modelling of bi-metal forged components is challenging even at cold forging conditions due to the differing material properties, varying friction behaviour and large deformations. When incorporating hot forge properties, such as conduction, heat transfer coefficient, heat generation due to plastic deformation, pressure, and elastic deformation of tools, the processing power and simulation times required become inacceptable.

From these early works, it is found that lightweight bi-metal gears can be designed to exhibit comparable performance to traditional single material steel gears. However, it should be noted that these studies were numerical in nature and thus further investigation including dynamic experimental testing is required.
7

Discussion

The present paper provides an overview of the literature related to the development of forged lightweight multi-metal gears, ranging from the initial workpiece design, workpiece heating methods, multi-metal workpiece production, multi-metal bonding and post forging analysis. A review of the literature has shown that each study has focused on a unique workpiece and gear geometry, thus resulting in a direct absolute comparison of the benefits of alternative methods being difficult, although it does provide indications as to the optimal processing route.
8

Conclusions

A review of the literature suggests that multi-metal gear forging is a promising solution to the reduction of gearbox assembly weight whilst maintaining performance. Numerous research works have focused on a range of material pairs including the achievement of cost reduction through the use of high strength steels at the tooth region with low carbon steel in the centre, or the reduction of weight through the replacement of low carbon steel with lightweight alternatives such as aluminium alloys. As research studies have focused on unique material pairs and geometries, it is difficult to directly compare all the methods to common benchmark values, although valuable lessons can be learnt regarding workpiece design, heating, forging and strengthening.

The co-extrusion of dissimilar metals is seen as the most rapid means of producing single workpiece bi-metal preforms, with the use of individual workpieces assembled in the die prior to forging as the lowest cost alternative due to the avoidance of manufacturing operations prior to forging. The advantage of pre-joining the multiple metals prior to forging is the more accurate control of the bond interface compared to bonding directly through forging. The effects of material compatibility are crucial to minimise the impact of galvanic corrosion and promote bonding, and interlayer materials are recommended to limit the adverse effects of these parameters. The thermal processing window is crucial to the success of a multi-metal gear as the use of inappropriate temperatures may lead to separation and the formation of an air gap due to differing thermal expansion coefficients, or result in cracking of the workpiece due to poor ductility. For aluminium-steel pairs it is recommended to heat steel to temperatures greater than 900 °C and aluminium between 400 to 500 °C. This temperature selection also enables the control of thermal contraction post-forging to produce a robust gear. Induction heating to attain such temperature control is superior to the use of furnace heating as induction systems could be placed in close proximity to the die thus minimising thermal loss during workpiece transfer. Moreover, the literature has stated that a single coil design could heat both metals to their target temperatures thus avoiding the use of multiple furnaces. However, the selection of any method, or combination of methods, to produce a multi-metal forged gear is highly geometry and material dependent and therefore practical constraints mean there is no single processing route that is ideal for the manufacture of all multi-metal forged gears. Expert systems are expected to aid users in the optimisation of a gear forging, although these are still in the early stages of development, particularly for multi-metal gear forging operations, and show enormous potential to optimise all aspects of the manufacturing process. These systems would enable users to upload their geometry and material requirements, and through an evaluation of prior case studies stored in a database, provide a suitable avenue to the most efficient processing route for the forging of multi-metal gears.
Open Access
This article is licensed under a Creative Commons Attribution 4.0 International License, which permits use, sharing, adaptation, distribution and reproduction in any medium or format, as long as you give appropriate credit to the original author(s) and the source, provide a link to the Creative Commons licence, and indicate if changes were made. The images or other third party material in this article are included in the article's Creative Commons licence, unless indicated otherwise in a credit line to the material. If material is not included in the article's Creative Commons licence and your intended use is not permitted by statutory regulation or exceeds the permitted use, you will need to obtain permission directly from the copyright holder. To view a copy of this licence, visit
http://​creativecommons.​org/​licenses/​by/​4.​0/​
.
Publisher's Note
Springer Nature remains neutral with regard to jurisdictional claims in published maps and institutional affiliations.