Published in: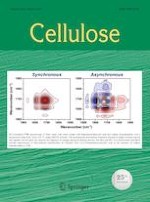 23-01-2019 | Review Paper
Review on cellulosic fibers extracted from date palms (
Phoenix Dactylifera

L.) and their applications

Published in: Cellulose | Issue 4/2019

Login to get access
Abstract
The increasing demand for more sustainable and renewable materials, has increased the interest in natural fibers. Natural fibers are not only environmentally-friendly, but they also have high specific properties, due to their light weight. The date palm tree (
Phoenix Dactylifera
L.) is considered one of the sources of natural fibers. Fibers could be extracted from different parts of the date palm, namely, the midribs, spadix stems, leaflets, and mesh. The high population of date palm results in huge quantities of by-products of annual pruning, which makes it one of the most available sources of natural fibers. Reviewing the literature showed a need for clarification and analysis. This work offers a thorough and integrated review of prior and current literature related to date palm fibers; their extraction techniques, characteristics, and, applications. This review will provide researchers with a better understanding of date palm fibers and will help them spot the research gaps on which they will build their future research studies. Moreover, this review will help practitioners determine how to use these fibers in producing new materials.
Graphical abstract
×