2016 | OriginalPaper | Chapter
10. Revisiting the Dynamics Between Two Ancient Japanese Descent Groups: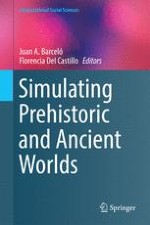 Read first chapter
What Happened from the Jomon to the Yayoi Periods in Japan
Authors: Fumihiro Sakahira, Takao Terano
Publisher: Springer International Publishing
Abstract
We applied a simple agent-based simulation (ABS) model to examine problems experienced by Chinese-Korean immigrants during the establishment of the agrarian culture of the Yayoi period (300 BC–250 AD) in Japan. We focus here on two issues: (1) the sex ratio of the immigrants, and (2) the question of who played a formative role in the development of the agrarian culture during the Yayoi period. Our simulation model demonstrates that in the event that most of the initial immigrants were male, and that an agrarian culture was widely introduced by native Jomon people during the early stage of its development, it is probable that after 300 years, the majority of people shared the same traits as the immigrants. These results suggest that the initial immigrants—primarily males—and many native Jomon people played a formative role in the establishment of the agrarian culture of the early Yayoi period. These results will contribute to the literatures in the fields of anthropology and archaeology in Japan.