23-05-2018 | Issue 1/2020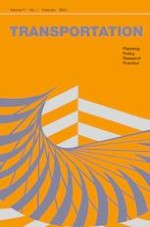 Revisiting the relationship between traffic congestion and the economy: a longitudinal examination of U.S. metropolitan areas
Journal:
Authors:

Wesley E. Marshall, Eric Dumbaugh
Abstract
Conventional transportation practices typically focus on alleviating traffic congestion affecting motorists during peak travel periods. One of the underlying assumptions is that traffic congestion, particularly during these peak periods, is harmful to a region's economy. This paper seeks to answer a seemingly straightforward question: is the fear of the negative economic effects of traffic congestion justified, or is congestion merely a nuisance with little economic impact? This research analyzed 30 years of data for 89 US metropolitan statistical areas (MSAs) to evaluate the economic impacts of traffic congestion at the regional level. Employing a two-stage, least squares panel regression model, we controlled for endogeneity using instrumental variables and assessed the association between traffic congestion and per capita gross domestic product (GDP) as well as between traffic congestion and job growth for an 11-year time period. We then investigated the relationship between traffic congestion and per capita income for those same 11 years as well as for the thirty-year time period (1982–2011) when traffic congestion data were available. Controlling for the key variables found to be significant in the existing literature, our results suggest that the potential negative impact of traffic congestion on the economy does not deserve the attention it receives. Economic productivity is not significantly negatively impacted by high levels of traffic congestion. In fact, the results suggest a
positive
association between traffic congestion and per capita GDP as well as between traffic congestion and job growth at the MSA level. There was a statistically insignificant effect on per capita income. There may be valid reasons to continue the fight against congestion, but the idea that congestion will stifle the economy does not appear to be one of them.