24-02-2018 | Issue 6/2018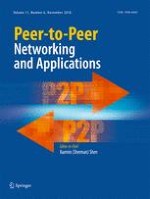 RFID-based sensing system for context information management using P2P network architecture
Authors:

Youngseok Lee, Jungwon Cho
Important notes
This article is part of the Topical Collection:
Special Issue on Convergence P2P Cloud Computing
Guest Editor: Jung-Soo Han
Abstract
An RFID-based sensing system using a P2P network can play an important role in a ubiquitous environment. We developed a network capable of managing its own computing and network resources by combining computing devices with a wide variety of sensors. Context awareness is required to deliver the functionality of the sensing network described in this paper. We designed an RFID-based sensing system that receives contextual information about the user via a P2P network. The proposed system includes the basic RFID equipment needed to use and test an RFID system, which consists of a reader, 30 sample tags, and a sample middleware application for reading, writing, and testing RFID tags. It is able to recognize users entering and leaving a location, as well as determine the distance of a user from itself. It can also recognize the condition of the sensor installation. We designed, implemented, and analyzed a system that provides practical services with real-world educational applications. There were statistically significant differences between the control and test groups for user satisfaction, content learned, learning content composition, and user interface.