2021 | OriginalPaper | Chapter
Rheological Properties of Molding Mixes on Composite Gypsum Binders for 3D-Additive Technologies of Low-Height Monolithic Construction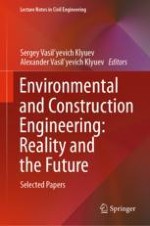 Read first chapter
Authors: E. S. Glagolev, N. V. Chernysheva, M. Yu. Drebezgova, D. A. Motorykin
Publisher: Springer International Publishing
Abstract
The most important indicators of molding mixes for 3D construction technologies that determine the quality of products are rheological and technological characteristics, in particular, the preservation of viability (flowability of the mixture), the ability to regulate the thickening and setting time within the required limits, as well as the ability to maintain certain rheological parameters throughout the entire process of their preparation. The use of special molding mixes based on composite gypsum binders (CGB) will reduce the duration of the production cycle and improve the quality of products.
The paper presents the results of experimental studies on the rheological characteristics of fast-hardening special molding mixtures based on CGB, including (wt. %): gypsum binder—58% (70% G-5 BII and 30% GVVS-16); cement—20%; waste of wet magnetic separation of ferruginous quartzite (WMS waste)—20%; metakaolin—0.5% and chalk—1.5%, which were studied on a rotary viscometer "RHEOTEST RN 4.1".
The studies confirmed the ability to control the rheological properties of molding mixes on CGB due to the combined functional and rheologically active additives with optimizing their properties for features of different types of forming equipment and tasks.