18-01-2019 | Focus | Issue 19/2019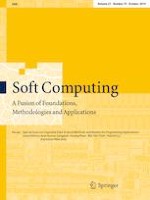 Road network-based region of interest mining and social relationship recommendation
Journal:
Authors:

Rong Tan, Yunpeng Zhang
Important notes
Communicated by A.K. Sangaiah, H. Pham, M.-Y. Chen, H. Lu, F. Mercaldo.
Publisher's Note
Springer Nature remains neutral with regard to jurisdictional claims in published maps and institutional affiliations.
Abstract
Region of interest (ROI) discovery is among the most common functions in location-based social networking services (LBSNS). While former researches mainly utilize the accurate location coordinates history, the road context-based active region extraction algorithm (RAREA) proposed in this paper explores the method to extract those regions with road contexts. Furthermore, based on the active regions extracted by RAREA, the kNN consistency-based relationship recommendation algorithm (kNNC-RRA) is proposed as well. The kNNC-RRA compares the similarity degree of the active regions among the users to find the individuals with similar preferences to recommend the potential relationships. Experimental results illustrate that by analyzing the characteristics of those road contexts, ROIs are able to be discovered with high efficiency. And our work shows that both privacy protection and personalized services can be achieved in LBSNS.