2015 | OriginalPaper | Chapter
Role of ICTs in Sustainable Agriculture: A Study of
e

-Sagu in Andhra Pradesh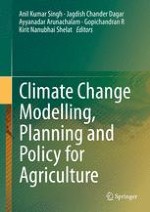 Read first chapter
Authors: Naveen Kumar Cheripelly, Raghava Reddy Chandri
Publisher: Springer India
Abstract
Indian agriculture, for long, was characterized as subsistence farming, carried out by small and marginal farmers adopting primitive techniques and thus incurring low yields. Importantly, Indian agriculture has also been negotiating the difficulties in food grain production. A series of changes in agricultural technology introduced in the 1960s, referred to as green revolution technology, helped India overcome the problems of food grain production. Green revolution technology not only offered new, high yielding seeds but also fertilizers which replaced organic manures and nitrogen-fixing crops, pesticides replacing biological, cultural, and mechanical methods for controlling pests. With the introduction of green revolution, the structure of Indian agriculture also underwent changes, bringing agriculture into the fold of capitalism.
Without having access to credible advice, the farmers have been adopting unscientific cultivation practices mostly on the advice of the dealers of pesticides and seeds. As a result, farmers have been relying on wrong, untimely, unnecessary information leading to losses. The net result is very devastating for farmers, environment, and public health. For farmers, they are facing severe crisis due to reduced crop output or crop failure. The task of making agriculture sustainable is of no less importance to India than to any other country. Emerging technologies need to be profitable and ecologically sound. Half of India's total land area is estimated to suffer from problems of degradation on account of unsustainable practices like excess use of chemical fertilizers, pesticides, herbicides, etc.
Sustainability agriculture in India is achievable when the farmers are supplied with adequate, appropriate, accurate and timely information. Agricultural information has the key role in facilitating the participation of people relating to sustainable development. Several attempts have been made in the dissemination of agricultural information to the farmers using the advances in information and communication technologies (ICTs), one such attempt is e-Sagu, which uses ICTs in providing continuous, relevant, and latest technological information to farmers through computer and the Internet in Andhra Pradesh.