Published in: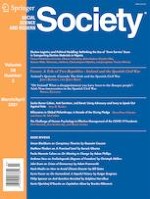 14-05-2021 | Culture and Society
Sacha Baron Cohen, Anti-Semitism, and Borat: Using Advocacy and Irony to Speak Out Against Hate
Published in: Society | Issue 2/2021
Login to get access
Abstract
The research compares the ironically anti-Semitic Sacha Baron Cohen character of Borat Sagdiyev from the 2020
Borat Subsequent Moviefilm
with Cohen's
2019
uncharacteristic out-of-character public advocacy work with the Anti-Defamation League in an effort to stop the spread of hate online via social media. Discussing the use of irony and antiphrasis to promote a greater understanding of society's tolerance of anti-Semitism and indifference to hate, Cohen's comic work is contrasted with the use of his public celebrity to spread the same message against hate and indifference. The manuscript suggests that despite backlash to
Borat Subsequent Moviefilm
, the 2020 comic effort offers an impactful antidote to the rapid spread of hate and anti-Semitism online via social media and successfully advances Cohen's use of extreme and exaggerated characters to ironically advocate for greater tolerance. In a political environment ripe with the spread of misinformation and the rise of hate speech, Cohen's ironic characters and his celebrity activism both stand as important contributions to our public discourse.