2015 | OriginalPaper | Chapter
SBSS Demonstrator: A Design for Efficient Demonstration of Space-Based Space Surveillance End-To-End Capabilities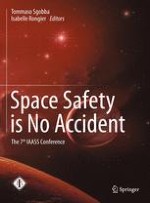 Read first chapter
Authors: Jens Utzmann, Axel Wagner, Jiri Silha, Thomas Schildknecht, Philip Willemsen, Frédéric Teston, Tim Flohrer
Publisher: Springer International Publishing
Abstract
This paper presents the capabilities of a Space-Based Space Surveillance (SBSS) demonstration mission for Space Surveillance and Tracking (SST) based on a micro-satellite platform. The results have been produced in the frame of ESA's "Assessment Study for Space Based Space Surveillance Demonstration Mission" performed by the Airbus Defence and Space consortium.
The assessment of SBSS in an SST system architecture has shown that both an operational SBSS and also already a well-designed space-based demonstrator can provide substantial performance in terms of surveillance and tracking of beyond-LEO objects. Especially the early deployment of a demonstrator, possible by using standard equipment, could boost initial operating capability and create a self-maintained object catalogue. Furthermore, unique statistical information about small-size LEO debris (mm size) can be collected in-situ.
The paper presents details of the system concept, candidate micro-satellite platforms, the instrument design and performance.